In Salpaus, every day you may encounter many students from all over the world. Especially for immigrant student, Salpaus it is more than just a school but where they learn Finnish culture and get ready to jump in working life.
Finnish language and culture course takes 3-4 month to complete. During course students have an internship opportunity based on one's interests. Internship is a critical part of integration during study. During internship students can experience area of interest for the future career. Also local companies and organizations benefit from getting help without cost and bring diversity into work places.
We have met students from Module 3 and asked how they are doing in Salpaus and internships. We would like to share their experience!
Olga has intership at retirement home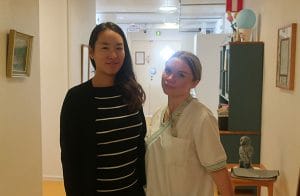 Olga is a student from St. Petersburg, Russia. She is studying Finnish language in module 3 class at Salpaus, and now having internship at retirement home in Lahti. Let's hear her experience in her own words.
- It has been about 2 years since I moved to Finland. I came to Finland because I got married to Finn! I used to work in a railway company before I came Finland. I like my life here because it is quiet and peaceful.
- I think working life is not so different from Russia and Finland in terms of what you need to do and how you do. Finnish language is quite different from Russian and learning new language that so different from mother tongue is not easy. But I'd like to say that to the people who wants to move to Finland, "Don't be afraid of it and be brave!"
When we met Olga she was assisting a grandma to move and get dressed with kind manner and gentle smile. During one month internship, she helps the elders in the retirement home; cleaning, giving meals, last but not the least, being a good company for the elders. We asked Olga what is the most important thing she learned during internship:
- I think, the most important thing is to think the elders in retirement home as like your own grandmother and grandfather. Also, we need to remember that we all have time of weakness sooner or later. Someday you will need a help form other people. I think it is important to remind yourself when you serve people.
Yoshimi dreams to work in restaurant business
Yoshimi is from Japan and she has lived in Finland about 2 years. She moved to Finland because her husband is working in Finland. She used to work as sales manager at optical store in Japan and also lived in China a couple of years, too.
- At first when I came Finland, I didn't know where to start studying Finnish language, so I studied at home by myself. Then I found a course in Päijät-Häme summer school and then I got into TE-toimisto program and they arranged the study in Salpaus. Now I am happy that I can study Finnish every day and it helps me a lot. Finnish is not an easy and familiar language for me. But luckily pronunciation is not that difficult for Japanese native speaker I would say.
Yoshimi is now having an internship at the restaurant in Lahti city hospital for a month. She also had a previous internship in a restaurant last year. During Finnish language and integration course in Salpaus, students get the internship opportunity for 2 weeks in the level 2 class and for a month in the level 3.
- I am helping chef to prepare the meals. I prepare ingredients ready to cook, make a salad table, boil coffee and tea, and arrange food in the shelves. Also I am cleaning the counter and dishwashing after lunch time.
Unlike Japan, in Finland often people needs special diet like lactose-free or gluten-free and different vegetarian options. Yoshimi remembers moments that she got a question about food ingredients and she couldn't remember everything and it was a tricky for her.
- I am interested in cooking professionally so having an internship opportunity in a restaurant is very helpful. I can learn how things are prepared and managed in the kitchen. Also it gives a chance to see whether this job suits me or not. Luckily I like restaurant business. I want to continue study Finnish at Salpaus and apply to culinary school.